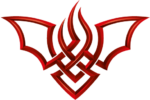 LEGEND OF DRACULA
CABERNET SAUVIGNON & MERLOT
Dive into the world of "Folklore 2016 – Cabernet Sauvignon & Merlot" from the renowned winery "Legendary Dracula" and let yourself be enchanted by an extraordinary wine experience. This exquisitely composed red wine harmoniously combines the powerful aromas of Cabernet Sauvignon with the soft and fruity notes of Merlot to give you an unforgettable taste experience.
The "Folklore 2016" presents itself in a deep ruby red and exudes the seductive scent of dark cherries, which combine elegantly with nuances of dark chocolate and ripe berries. On the palate, the wine unfolds its full glory and offers you a rich, full-bodied taste, carried by a velvety tannin structure.
The finish of this noble drop is long and pleasant, rounded off by a subtle nutty flavor that gives the wine an additional depth and complexity. Enjoy "Folklore 2016" as the perfect companion to a festive meal or as a sensual treat at the end of a long day.
This red wine harmonizes perfectly with strong dishes such as duck breast, but is also an excellent choice with sweet temptations such as dark chocolate or a juicy panettone. Let yourself be seduced by the magic of "Folklore 2016 – Cabernet Sauvignon & Merlot" and experience how the wine tells its story with every sip – a story of passion, craftsmanship and the magic of the "Legendary Dracula" winery.
The Legend Dracula (Legendary Dracula)
The story begins in 1431 in Sighisoara (Schässburg) in Transylvania, known for its picturesque Carpathian landscape. By an oath Dracula becomes immortal and turns into the most famous vampire, inspiring dozens of writers and directors. After centuries, he awakens from his sleep to search for his lost love and tell his story:
"I am a restless traveler. 500 years ago I was known as Vlad the Impaler, the feared ruler of a small country. But I wanted to make a difference and make the world a better place, so I broke all the rules and made new ones. A champion of justice and a warrior who took every risk to realize his vision. To make people listen, I became their biggest nightmare. I never imagined that hundreds of years later my life would serve as an inspiration to others. Myths about my country and about my person were the basis for Count Dracula, the most powerful vampire of all time."